I am excited to introduce to you a new collaboration that I have created, The Wedding Collection : London Micro Wedding Planning. Partnering with a talented group of London wedding suppliers to create an unforgettable day for couples getting married during this unusual time, from October 2020 to March 2021.

As of the end of September, the UK Government has changed its rules on what is allowed when it comes to gathering for weddings and civil partnerships, in regards to Covid-19 rules. Only a month before had the government allowed groups of 30 to gather, and then it was down to 15 guests. My heart went out to the couples who had decided to make the decision to officially get married after rescheduling their larger event to a more intimate group of 30 guests, and now would have to cut that list down to 15 guests! After speaking with so many of my colleagues in the wedding industry we really felt that there was still a way to make this day special.
During these unprecedented times, we believe that couples should still be able to have a beautiful and memorable day that is planned and styled and polished, without causing them more stress then the past months have brought them. Together with a group of amazing London based suppliers I created the Wedding Collection, London micro wedding planning. An easy stop for couples to be able to get the styled and planned day they dreamt of without having to search the internet for hours and start from scratch on who to hire and how to create the setting they saw on Instagram. A combination of six suppliers coming together to give you a beautifully intimate day that will be remarkably memorable.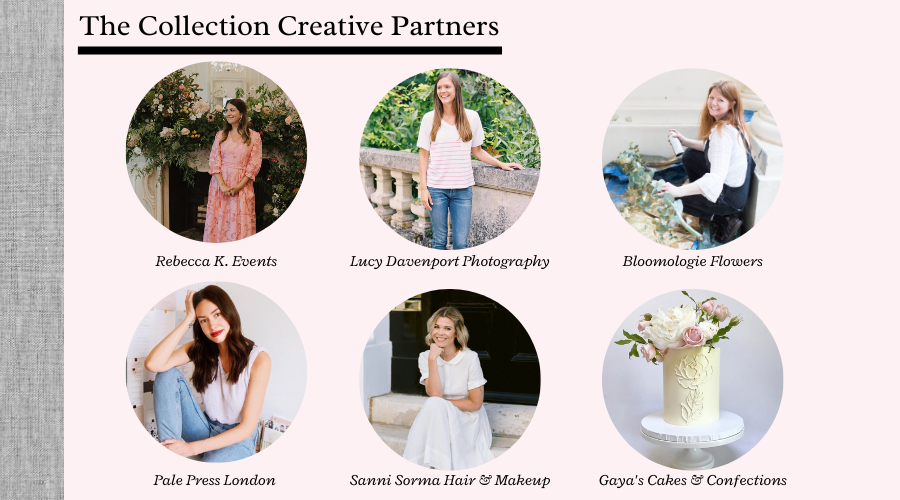 What is included in the Collection?
We wanted to cover what we thought were the most important basic components to a lovely wedding day. Rebecca K. Events will coordinate and style all of the details for you, Lucy Davenport will be there to capture gorgeous photos, Ali with Bloomologie Flowers will create luxuriously wild arrangements for your ceremony and reception, Ashley with Pale Press London will design modern calligraphy pieces of stationery to have on the day, Sanni Sorma will meet you at home or at your venue to make you feel and look beautiful on the day and Gaya's Cakes will create a delicious and gorgeous cake to enjoy after you say "We do!". We can assist with finding a venue or you may have already booked a location to celebrate, either way, there are many other bits we can add on, but these are the basics.

What are the other details of the Collection?
The collection can be created as a bespoke  proposal to you, however the pricing of the collection has been put together based on a London micro wedding held within the M25 for 15 guests. Do enquire and Rebecca K. Events can send more details about the day and sample photos of what style of items are included.
Currently we are offering the collection from October to 2020 to March 2021. With the ever changing government guidelines and the unknown times of living in this pandemic, we may extend it, however we are hoping that as of next March 2021, we will be able to celebrate again in larger groups.
The collection does not include venue hire or catering, however we are happy to assist in securing both of these items for you. If you want to host a reception with a styled table for your guests and are thinking to add on a little more, just let Rebecca know and she would love to create something special with you.
We require a 50% deposit to hold the date. If the government changes its guidelines and it must be rescheduled, we are happy to transfer the deposit to a new date with no additional fees, subject to availability. 
How do I book the Collection? 
Lets chat! We would love to hear from you! Get in touch with Rebecca at hello@rebeccakevents.com 
Looking forward to hearing from you and putting together something micro but magical on your big day!
xoxo Rebecca